Design & Installation
Custom Aquariums
Residential and commercial Aquariums



Always swim upstream
Unique & High-Quality Custom Freshwater & Reef Tanks
 We design and install unique saltwater and freshwater aquariums in residential and commercial spaces. Each aquarium is one-of-a-kind, conservation-minded and high-quality. Whether you have a small space or a large one, we can create a custom aquarium you've only dreamed about.
How it works
Our Process for a Custom Aquarium
Free Assessment
Free assessment on location and interview you to establish your aquarium design goals.
Design & Plan
We design a custom aquarium, filtration package, and support system to suit your needs.
Quote & Timeline
We contact our trusted manufacturers and vendors to quote your custom aquarium and create a timeline you can count on for the completion of your project.
Installation
We professionally install your custom aquarium and once completed, we offer ongoing maintenance.
Tanks We Design & Install
Types of Custom Aquariums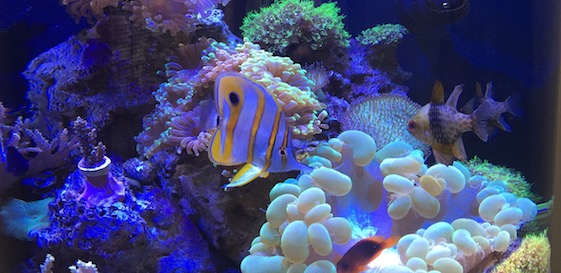 A reef aquarium is designed for live coral and invertebrates. While geared for coral, reef tanks are often stocked with some of the most beautiful, and often difficult to keep, fish found in any tank. Lighting, flow, and chemistry are very important in reef tanks, as they must all mimic the environment the corals, inverts, and fish would find in nature. These tanks are like your own personal slice of a reef.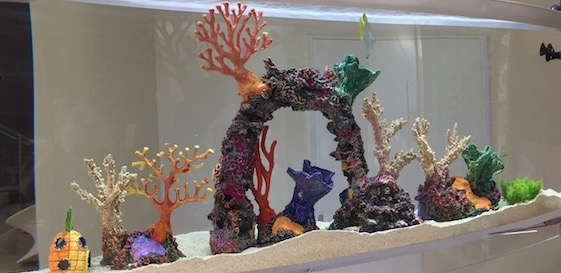 Insert aquariums provide exceptional appearance at all times and lots of fish. An insert is an artist rendering of an actual reef or a fantasy theme. Each insert is unique and they can be different as each client who commissions the work of art. The insert is a part of the aquarium and cannot be removed. The best insert aquariums have high-quality filtration to keep them looking clean and maximize fish load.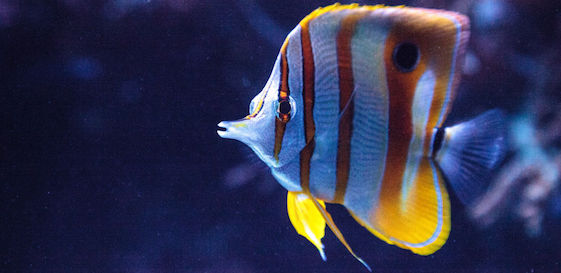 Fish only with live rock is for those that want an economical alternative to a reef tank. An attractive structure made of live rock both for decoration and its natural filtration benefits. The quality of the filtration will determine the fish load and the general appearance. Better filtration will afford more fish, brighter lighting and a minimum of maintenance.
| Details | Reef Aquarium | Insert Aquarium | Fish Only with Live Rock |
| --- | --- | --- | --- |
| Upfront Investment | High | High | Low |
| Ongoing Maintenance Costs | High | Low | Mid-High |
| Fish Variety | Low | Mid-High | High |
| Consistent Appearance | Low | BEST | Mid-Low |
| Natural-looking | BEST | Depends | Mid-Low |
| Wow Factor | Yes | Yes | No |
| Change the Decor | Nature-made changes | No | Yes |
We are Licensed & Insured
We have 13 years of professional experience and we are the highest-rated professional aquarium service in the Valley on Yelp.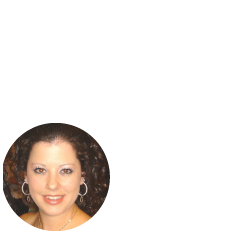 The Happy Fish is THE ONLY place you should go for your aquarium needs.  Not only do they know what they are doing, but are personal and very professional.  I have a high-end jewelry store, and it is VERY IMPORTANT that my aquarium always looks it is best, and Happy Fish never lets me down.  If you're looking for service or to install an aquarium, this is the place to call. — Stephanie B.